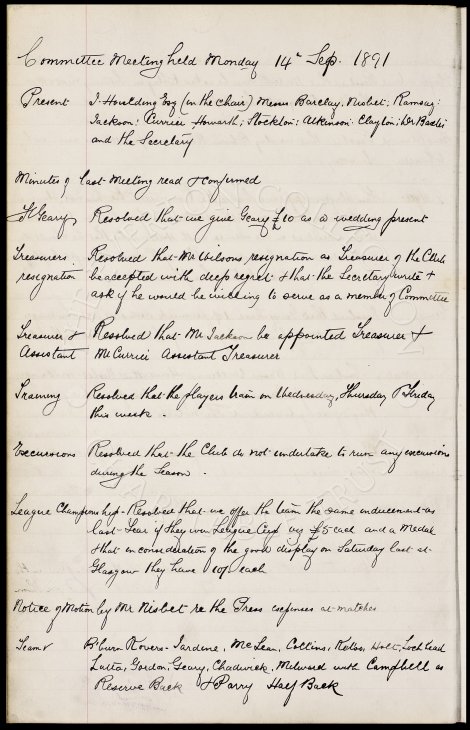 Committee Meeting held Monday 14th Sep. 1891



Present		J. Houlding Esq. (in the chair) Messrs Barclay, Nisbet, Ramsay,
		Jackson, Currier, Howarth, Stockton, Atkinson, Clayton, Dr. Baxter
		and the Secretary.

Minutes		of last Meeting read & confirmed.

F. Geary	Resolved that we give Geary £10 as a wedding present.

Treasurer's	Resolved that Mr. Wilson's resignation as Treasurer of the Club
resignation	be accepted with deep regret & that the Secretary write &
		ask if he would be willing to serve as a member of Committee.

Treasurer &	Resolved that Mr. Jackson be appointed Treasurer &
Assistant	Mr Currier Assistant Treasurer.

Training	Resolved that the players train on Wednesday, Thursday & Friday
		this week.

Excursions	Resolved that the Club do not undertake to run any excursions
		during the Season.

League Champions Cup - Resolved that we offer the team the same inducement as
		last year if they win League cup viz £5 each and a Medal
		& that in consideration of the good display on Saturday last at
		Glasgow they have 10/- each.

Notice of Motion by Mr. Nisbet re the Press expenses at matches.

Team	v	B'burn Rovers - Jardine, McLean, Collins, Kelso, Holt, Lochhead,
		Latta, Gordon, Geary, Chadwick, Milward with Campbell as
		Reserve Back & Parry Half Back.