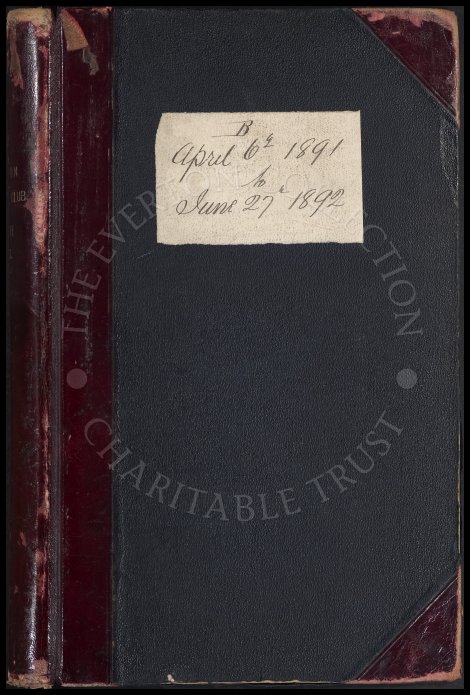 See other pages by clicking on Next or by
entering a page number and clicking Go.
Contains minutes of ordinary meetings, annual general meetings, special meetings. 28 Apr 1891 it was agreed the 12 players who took part in the qualifying stage of the Liverpool Serial Cup should be presented with silver medals, and to have a concert and public presentation of the League Cup. 15 Jun 1891 it was decided to adopt red shirts with blue trimming as colours for next season. 22 Jun 1891 it was decided to have dark blue shorts. 27 Aug 1891 at a special meeting it was agreed to form a company for the purchase of Mr. Houlding's interest in the football ground and the interest of Mr. Orrell in adjoining land. 5 Oct 1891 Mr. Houlding was reported to have agreed to allow the Club to continue using the ground for 250 p.a. rent. 19 Oct 1891 a sub-committee was set up to look into leasing other grounds. 7 Dec 1891 the sub-committee had acquired particulars of the Goodison Road ground. 25 Jan 1892 a final offer to Mr. Houlding was drawn up. It was agreed to select Goodison Road if Mr. Houlding refused the Club's offer. 8 Feb 1892 agreement to go ahead with the lease of the Goodison Road ground. 26 Apr 1892 reported the F.A.s decision that the name Everton should be available to the Everton Football Club. 9 May 1892 agreed that Cambridge blue shirts and white shorts were registered as the Club colours. 17 May 1892 decided that Everton Football Club be formed into a limited liability company. List of players engaged on the Club's books 1892-93 season given. Also a list of players engaged since May 1891 and players engaged for the season 1891-92. Minutes signed by W. E. Barclay, Robert A. Wilson,
John
Houlding, George Mahon, W. Jackson, Joseph Williams, J. J. Ramsay. Everton Fixtures Season 1890-91 pasted to front flyleaf. Notice of a general meeting to be held in March 1892 pasted to back flyleaf. Provisional Prospectus for Nominal Capital in Everton Football Club pasted to inside back cover, 1892 n.d. Copy of a share application form pasted in after minutes of 16 May 1892. Results for 1891-92 season and Treasurer's Report pasted in after minutes of 17 May 1892.
Permission to reproduce an image for anything other than private use must be obtained from the Everton Collection Charitable Trust