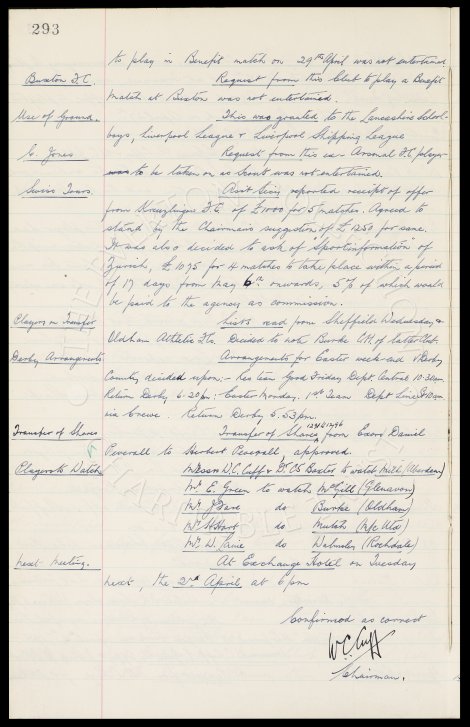 293

		to play in Benefit match on 29th April was not entertained.

Buxton F. C.		Request from this Club to play a Benefit
		Match at Buxton was not entertained.

Use of Ground		This was granted to the Lancashire School-
		boys, Liverpool League & Liverpool Shipping League.

C. Jones		Request from this ex-Arsenal F. C. player
		was to be taken on as Scout was not entertained.

Swiss Tours		Asst. Secy. reported receipt of offer
		from Kreuzlingen F. C. of £1000 for 5 matches. Agreed to
		stand by the Chairman's suggestion of £1250 for same.
		It was also decided to ask of "Sportinformation" of
		

Zurich

, £1075 for 4 matches to take place within a period
		of 17 days from May 6th onwards, 5% of which would
		be paid to the agency as commission.

Players on Transfer	Lists read from Sheffield Wednesday &
		Oldham Athletic F. C. Decided to note Burke C. H. of latter Club.

Derby Arrangements	Arrangements for Easter weekend v Derby
		County decided upon:- Res. team Good Friday Dept. Central 10.30 am.
		Return Derby 6.20 pm.:- Easter Monday 1st Team Dept. Lime St. 10 am.
		via Crewe. Return Derby 5.53 pm.

Transfer of Shares	Transfer of Shares 1291 to 1296 from Exors. Damil
		Peverall to Herbert Peverall, approved.

Players to Watch	Messrs W. C. Cuff & Dr. C. S. Baxter to watch Mills (Aberdeen)
			Mr. E. Green	to watch	McGill (Glenavon)
			Mr. J. Fare	do		Burke (Oldham)
			Mr. H. Hart	do		Mutch (M/c Utd.)
			Mr. W. Laine 	do		Walmsley (Rochdale)

Next Meeting		At Exchange Hotel on Tuesday
		next, the 2nd April at 6 pm.

							Confirmed as correct
								W. C. Cuff
									Chairman.