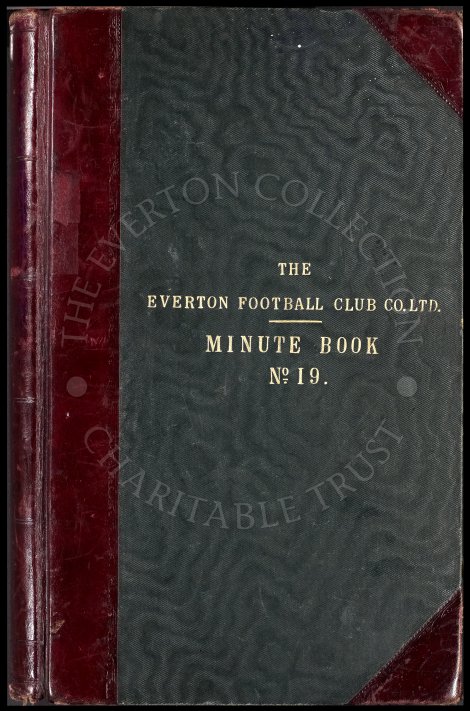 See other pages by clicking on Next or by
entering a page number and clicking Go.
Contains minutes of general meetings, annual general meetings, emergency meetings, sub-committee meetings, extraordinary general meetings. 7 Oct 1937 it was agreed to write to the Football League to request permission to increase T. Lawton and T. G. Jones' wages. 12 Oct 1937 it was decided to apply for rights to use parts of Goodison Place. A. Leitch, architect, was asked to liaise with the Ecclesiastical Commissioners and Liverpool Corporation. 9 Dec 1937 Ernest Green reported on the apparent success of using electrical equipment to combat frost on the football ground. 15 Mar 1938 it was agreed to transfer W. R. Dean to Nottingham County. The Secretary was instructed to have the new Club crest incorporated where required. 5 Apr 1938 arrangements for King George VI's visit to Goodison Park are recorded. 20 Jun 1938 reports of the Empire Exhibition Tournament were given. 22 Jun 1938 Ernest Green was elected Chairman of the Club. 5 Jul 1938 it was agreed to hold an Extraordinary General Meeting to alter the Articles of Association. 23 Jan 1939 it was agreed to go on a German tour. 21 Mar 1939 the Secretary was instructed to write to the German F.A. retracting the Club's agreement to tour on account of the political situation. 25 Apr 1939 it was agreed that players should be asked to join the Territorial Army. 9 May 1939 it was agreed to distribute a 275 bonus among players to celebrate winning the Football League. 5 Sep 1939 the Chairman reported that Goodison Park had been commandeered as an Anti-Aircraft post. 19 Sep 1939 the Police had granted permission for the Club to hold matches at the ground. 7 Mar 1940 it was agreed with the Football League that the Club would take part in a knockout competition. 16 Apr 1940 it was agreed that the Club should clarify its position regarding Red Cross Matches by sending a letter to certain officials. 27 Apr 1940 following the findings of the F.A. Commission investigating alleged misconduct by Everton F.C. and J. Mercer with regard to Red Cross Matches the Chairman, E. Green, was suspended from football management. Andrew Coffey was elected Chairman. 20 Jun 1940 W. C. Gibbins was elected Chairman. 5 Aug 1940 it was agreed to run 1st and 2nd teams. 21 Sep 1940 it was agreed to obtain estimates for repairing war damage to the ground. 29 May 1941 it was agreed to try and run football for the 1941-42 season. Minutes signed by William C. Cuff, Ernest Green, W. R. Withams, Andrew Coffey, W. C. Gibbins. Receipts from Companies Registration Office pasted to inside front cover and front flyleaf. League and Central League Fixtures 1937-39 pasted to front flyleaf. Letters giving notice of the A.G.M.s on 20 Jun 1938, 29 Jun 1939, 11 Jul 1940, 11 Jul 1941and 2 Jul 1942 including income and accounts pasted before minutes of the meetings, also agenda. List of Signed Players for Season 1938-39 pasted in next to minutes of 20 Jun 1938. Notice of a Special Resolution pasted in next to minutes of 5 Jul 1938 and 12 Aug 1938. Scrutineers' notices pasted in next to minutes of 12 Aug 1938 and 29 Jun 1939. Allocation of Practice Match Receipts 1938 pasted in next to minutes of 23 Aug 1938. List of Players' Honours Season 1839-39 and a list of Professional Staff 1939-40 pasted in next to minutes of 29 Jun 1939. Slip of paper about the Jubilee Fund pasted into minutes of 29 Aug 1939. Letter outlining Everton F.C.'s position concerning Red Cross matches pasted after minutes of 16 Apr 1940. F.A. Report pasted in after minutes of 27 Apr 1940. Everton F.C. Fixtures 1941-42 pasted in next to minutes of 11 Jul 1941. Includes index.
Permission to reproduce an image for anything other than private use must be obtained from the Everton Collection Charitable Trust