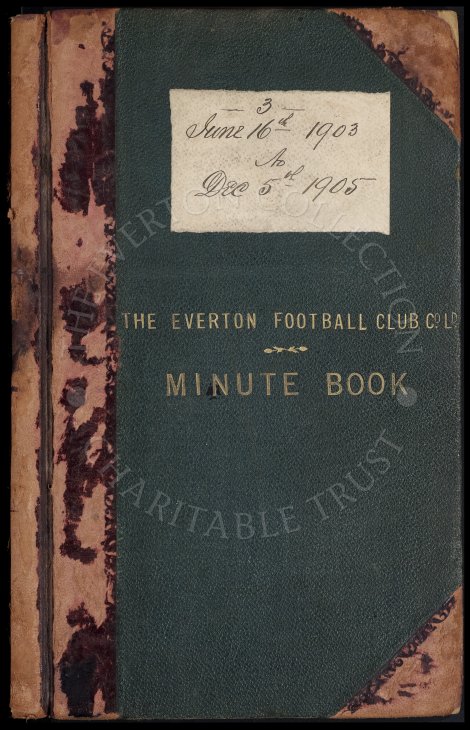 See other pages by clicking on Next or by
entering a page number and clicking Go.
Contains minutes of general meetings, emergency meetings, annual general meetings. 11 Aug 1903 it was agreed to write to the church authorities about the Club's hoarding and the proposal to build part of St. Luke's Road. 13 Oct 1903 a gymnasium was proposed. 29 Mar 1904 it was agreed to inform the League clubs that the committee believed that the rule as to wages and bonuses was a failure. 10 Aug 1904 it was agreed to defer the construction of St. Luke's Road. 22 Nov. 1904 the team played against Woolwich Arsenal is recorded. 24 Jan 1905 it was agreed that the Club would go on a European tour. Mar-Apr 1905 various arrangements for the European tour are recorded. 7 Apr 1905 substantial alterations to Goodison Park were agreed. 29 Jun 1905 plans of the proposed new offices and stand were approved. 21 Nov 1905 it was agreed to ask Aston Villa if Bertie Freeman could come to Everton on trial. Minutes signed by Dr. James C. Baxter, B. Kelly, John Davies, George Mahon, William R. Clayton. League Team Results pasted to inside front cover. Committees' list pasted to front flyleaf. List of results of matches between Everton and Liverpool 1894-1905 and letter from W. C. Cuff to shareholders dated 17 Jun 1905 pasted to inside back cover. Letters giving notice of the A.G.M. including balance sheet pasted in next to the minutes of the A.G.M.s held on 7 Jun 1904 and 7 Jun 1905.
Permission to reproduce an image for anything other than private use must be obtained from the Everton Collection Charitable Trust