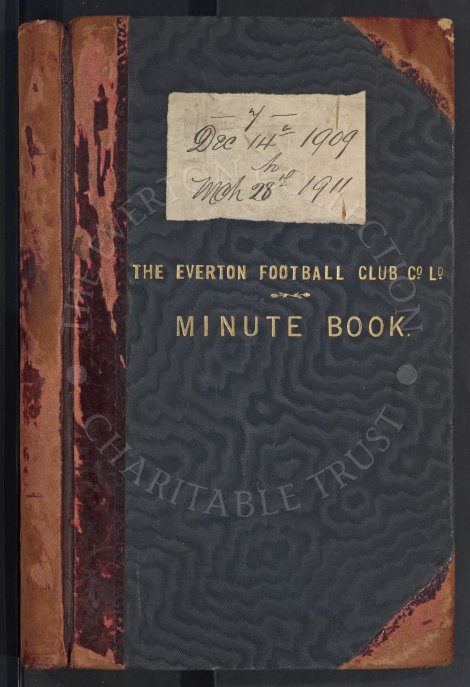 See other pages by clicking on Next or by
entering a page number and clicking Go.
Contains minutes of general meetings, special meetings, annual general meetings, emergency meetings. 11 Jan 1910 it was agreed that the Secretary should write to Frederick J. Wall, Secretary of the F.A., suggesting that the Clubs should meet to discuss players' wages. 15 Feb. 1910 the contractor, Mr. Leitch, explained why alterations to Goodison Park including the new stand were over budget. 25 May 1910 the Secretary's action in sending a cable congratulating Argentina on its centenary as a republic was approved. 9 May 1910 it was agreed to install tip-up chairs in the shareholders' stand. 21 Nov 1910 it was agreed that Chedgzoy be engaged. 27 Dec 1910 it was agreed to send a donation to the Huyton Colliery disaster fund. 7 Feb 1911 it was agreed that Jack Taylor's services to the Club would be recognised in due course. Minutes signed by D. Kirkwood, William Whitford. League and Combination Team results pasted to inside front cover. Agenda for meetings pasted in throughout volume. Letter from the F.A. pasted next to minutes of 11 Jan 1910. Two letters from the Office of the Surveyor of Taxes about accounts for years 1909-10 pasted in next to minutes of 22 Mar 1910. Itinerary of journey from Birmingham to Liverpool loose between pp.75-6. Transfer and retained lists pasted in after minutes of 3 May 1910. Agenda loose between pp.113-4, pp.151-2, pp.169-70, pp.219-20. Card for Chas. H. Lancaster pasted in after minutes of meeting of 6 Jun 1910. Letter giving notice of the A.G.M. on 27 May 1910 including balance sheet pasted in before minutes of the meeting. Notice of Assessment for Income Tax Year 1910-11 pasted in after minutes of 18 Oct 1910. Notice from Companies' Registration Office pasted to inside back cover. Includes index.
Permission to reproduce an image for anything other than private use must be obtained from the Everton Collection Charitable Trust