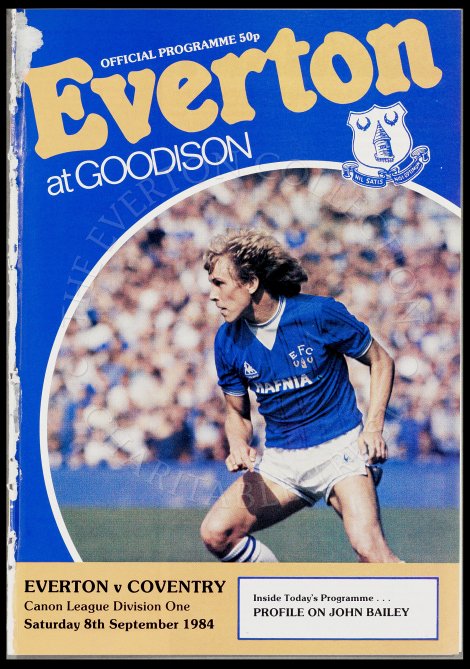 See other pages by clicking on Next or by
entering a page number and clicking Go.
Programme - Everton v Coventry City
Everton defeated Coventry City 2-1, with Sharp and Steven scoring the goals for Everton, in front of 20,013 spectators. Everton won the 1st Division in 1984-85 by 90 points, 13 points ahead of runners-up, Liverpool.
Paul Wilkinson
Pat van den Hauwe
Derek Walsh
Neil Rimmer
Darren Oldroyd
Johnny Morrisey
Jason Danskin
Paul Bracewell
Ian Aitkins
Robbie Wakenshaw
Trevor Steven
Darren Highes
Alan Harper
Andy Gray
Derek Mountfield
Kevin Sheedy
Peter Reid
Adrian Heath
Terry Curran
Gary Stevens
Neville Southall
Kevin Richardson
Graeme Sharp
Kevin Ratcliffe
John Bailey
Andy King
Mark Higgins
Permission to reproduce an image for anything other than private use must be obtained from the Everton Collection Charitable Trust